As winter sets in again and people start shopping for new seasonal outfits, Bosideng, a local Chinese brand, is perhaps the most coveted and desirable down jacket label of the year, thanks to its 44 years of commitment to quality and technological advancement in this category. Bosideng collaborates with the Chinese Antarctic Research Expedition and launches its Professional Collection for the 2020 winter season, which, since its release, has been adored by the market due to superior protection from the cold and a sleek city-ready design. "The Chinese Antarctic Research Expedition team members wear Bosideng down jackets," as people share the news on social media, the iconic winterwear brand has become a true phenomenon on the internet again.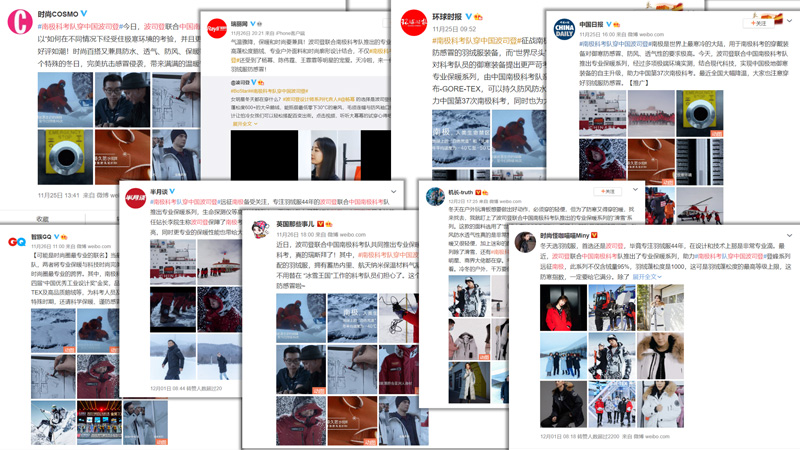 (Bosideng Professional Collection Becomes a Trending Topic)
"The Kind of Down Jacket You Wear in Antarctic," The Professional Collection Favored by Celebrities Alike
On November 25th 2020, Bosideng x Chinese Antarctic Research Expedition Professional Collection was officially unveiled. Co-designed by members of the Chinese Antarctic Research Expedition team and verified in extreme environmental tests, the Professional Collection features superior protection, sleek design and exquisite craftsmanship. Upon release, it has instantly become the latest most coveted piece in the fashion world. Wang Feifei, a top influencer, and Kiki Xu, one of the best-liked c-pop idols, immediately shared their outfit ideas with the new Bosideng look, further making the new release a trending topic among the public.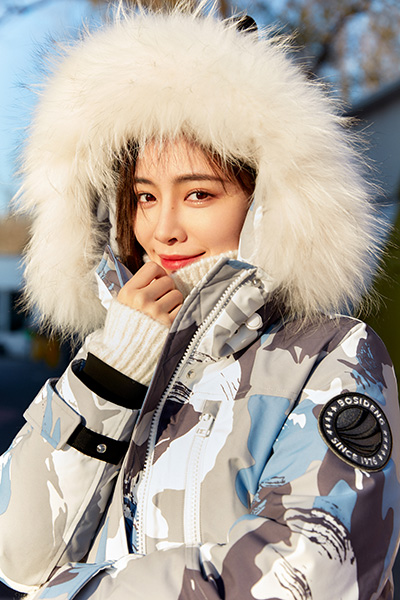 (Kiki Xu in Bosideng Extreme Cold Collection)
In addition to applause from the fashion community, the superior quality and craftsmanship of Bosideng Professional Collection is also well-recognized and chosen by established figures from all walks of life. such as Jiang Changjian, the well-known television presenter and host, Guo Wei, Chairman of Digital China, and Liu Yonghao, Chairman of New Hope Group. They have all chosen Bosideng as their formal outfit when participating in events and activities.
Superior Protection and Versatility, Designed for Various Needs
Bosideng down jacket collections are also well acknowledged by industrial professionals and technical rating agencies. "The down jackets that Bosideng designed for the Antarctic research expedition team provide good protection from the extreme cold and ensure that our work could go on smoothly," revealed by Yuansheng Li, who served as the first head of Kunlun Station in Antarctica. Earlier on November 10th, 2020, Bosideng Professional Collection joined the research team on its 37th mission to the coldest continent, aimed at securing good protection for all the members against extreme weather conditions.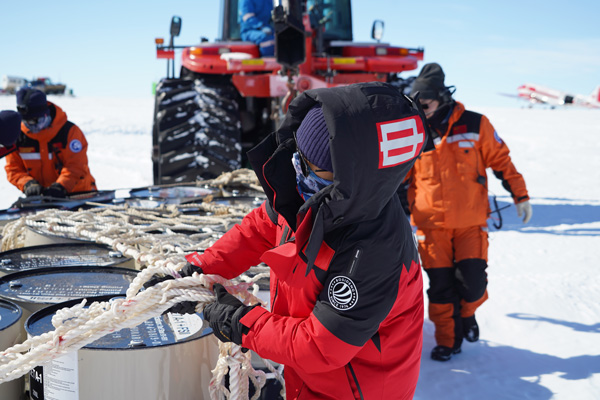 Chinese Antarctic Research Expedition Team Members in Bosideng down jackets
To offer protection under all occasions, Professional Collection comes in four sub-collections, namely Mountaineering, Ski, High-end Outdoor, and Extreme Cold, each tackling a specific scenario such as research expedition, outdoor conditions, extreme sports, and travel.
The Mountaineering Collection is designed to withstand the most rigorous conditions. Using 1000-fill-power goose down, the revolutionary GORE-TEX fabric, aerogel insulation nanotechnology developed for space travel, as well as the RECCO detector, the collection is created for exposure to extreme conditions. As one of the most advanced and all-weather shell in the world, the Mountaineering Collection received the gold award of the China Excellent Industrial Design Award, another important recognition from the authorities for Bosideng's exemplary work in the down jacket segment.
The Ski Collection is a must-have for outdoor sportsmen and professionals such as skiers and snowboarders. In addition to superior insulation, waterproof and windproof functionalities, the collection boasts a built-in thermoregulation capacity that helps heat and moisture escape, making it an impressive top performer among the outdoor technical jackets.
The Outdoor Collection, favored by celebrities thanks to its superior quality and craftsmanship, is another professionally-designed line verified by the most rigorous technical rating agencies. The use of high-quality premium European goose down content of over 800 filling power and infrared retaining lining ensures high insulation performance throughout the day. Adopting the world-renowned GORE-TEX fabric and its GORE-TEX INFINIUM? products, this collection is incredibly windproof, waterproof, and breathable, which makes it a competitive replacement of professional outdoor parkas.
The Extreme Cold Collection, widely adored by celebrities and influencers, is absolutely the true protagonist of fashion in winter thanks to its fitted silhouette and textured style ideal for the daily urban commute. With triple-layer insulation, high-end coating, premium high-quality goose down content of over 600 filling power, elasticated knit storm cuffs, and oversized fur collar, the jacket keeps customers warm in temperatures as low as minus 30 degrees Celsius. Many celebrities, such as Yang Mi, William Chan, Qin Hao, and Victor Ma, have all selected Bosideng Extreme Cold jackets as part of their daily outfit, showcasing the charm of the devastatingly awesome piece of outerwear.

(William Chan in Bosideng High-end Outdoor Collection, image from unknown original source )
Bosideng Professional Collection, recognized by the Chinese Antarctic Research Expedition and recommended by celebrities and influencers alike, has become known to the wider public and a preferred choice among consumers. After a cold wave swept across the country, the brand's retail stores have been flooded by trusting customers determined to get their hands on a Bosideng jacket, with the sales volume of the Professional Collection soaring exponentially. The flagship store on Tmall, on the other hand, also embraces a new round of sales boost, following the phenomenal revenue of one billion RMB achieved within 8 minutes during the Double 11 Sales Festival.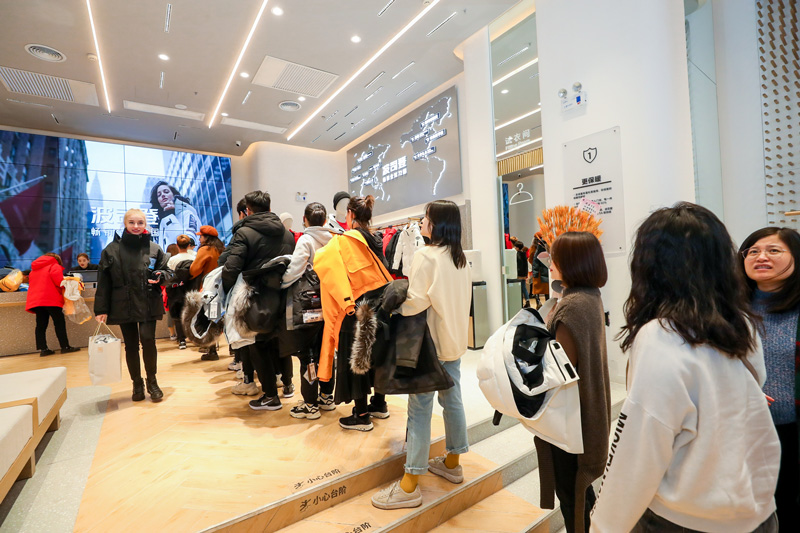 (Consumers lining up in a Bosideng retail store)
Innovation Is the Way: Bosideng Stays True to Its Mission of "Warm the World"
Every trial and innovation of Bosideng is a trail-blazing step in the industry. The collaboration with the Chinese Antarctic Research Expedition in launching the Professional Collection is to help upgrade the equipment for the researchers and adventurers of China working relentlessly in the most extreme conditions, and at the same time, to provide customers with more technology-intensive and warmer winter jackets in an unprecedented time, keeping them away from cold and illness.
With 44 years of commitment to down jacket development, Bosideng has continuously made innovations on down quality, fabric, production, and pattern design. As its hardcore technology capacity and professionalism leads to a strong presence of industrial know-how and excellence in quality, Bosideng keeps surprising the market and consumers with its professional service and brand value delivery. With its diverse product lines well received by over 200 million people in over 72 countries, the down jacket brand has taken China's fashion to the world stage, offering warmth and protection to everyone in the global village.